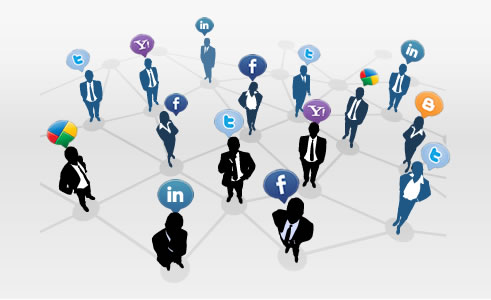 The world of social media grows fast in incredible state. Many people are addicted to social media and even high rank people could not stay away from it. The growth of social media is also affecting HR management, especially in recruitment area. Many recruiters are now following the trend of Social Recruitment. They used social media in the process of hiring candidates. This trend is not without substance. Social media is proven helpful in hiring right talent.
There are so many benefits in hiring candidates through social media. The ultimate benefit is wining great talent. This is something that recruiters are dying for. Getting great talents are very difficult because talent is not only determined by GPA and certificates, but how the candidate could adjust to company culture, deliver the best, and keep improving. Intellectual and social abilities need to be top notch.
Social media is a place where people connect to each other, share their thoughts, and show what they have. You can use social media to search potential candidates. Of course, you can use social media to attract candidate by posting job requirements and asks your friends to share it. Entering a group or two could be helpful to find candidates. Search hashtags is useful to find their portfolio in specific niches such as photography, videography, graphic design, interior design, cooking, and more.
Social media is also useful to help you pick the right candidate for the position. By observing social media account of your prospective candidates, it is possible for you to figure out their personality, they strength, people in their surroundings, and even their endorsements. Somehow, it may show you more than the resume they give you.
Not only exploring the social media of your potential candidate, you also need to pay attention to your own account. In
Social Recruitment, information inside recruiter account is essential to attract top talent. While recruiter searches for top talent, people search for top employer. Job seekers are giving their time to explore and find much information about the companies. Social media is a good place to know the nature of the company as well as finding information from third parties such as reviews and feedbacks. Therefore, you need to maintain your social media by providing sufficient information to your candidates and engage in good relationships with others to get positive feedback.
There are many types of social media. Each social media has unique features that you need to understand to optimize it function in Social Recruitment. You also need to understand the nature of social media users. They like to get information but they hate ads. Make your ads informative and do not do it often because it would be annoying and may reduce your reputation.
You can fully use social media to recruit your candidate or combine it with traditional recruitment method to win the best talent possible. Using full Social Recruitment is commonly helpful for online jobs while combination with traditional recruitment method is usually preferable for in office/in field job. It is your decisions whether you need to meet them face to face in the same spot for interview or you decide to choose online interview.